Whether you're in the Montreal or Ottawa area, I bet you didn't know that you are only 1 1/2 hours away from an exciting safari adventure. Parc Omega is the perfect day outing for kids (and folks) of all ages. It's an 800 hectare park where the animals roam free and you are "caged" in your car. It's such an easy drive to be able to come face to face with Canadian wildlife: reindeer, elk, arctic wolf and fox, bison, musk ox, turkey, boar, coyote, black bear, and many kinds of deer.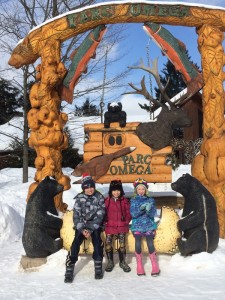 Along a 12-kilometere safari nature route which takes you past lakes, meadows, small valleys, forests and rocky hills, you meander at your own pace. You can pick up bag of carrots at the visitor center (or bring your own), and as you slowly make your way through, you are allowed to open the windows to feed the wildlife. Kids are thrilled that they do not have to be in their car seats here and can flit from side to side of the vehicle to say hello to the animals.
You tune your radio to a station which fills you in on all sorts of information about the species you will be seeing.
We learned which males are good daddies and stay around to raise the youngsters and which ones only show up for mating season.
I never knew that the musk oxen's heads are strong as hammers and they butt and knock everything down. Their quarters are specially built to withstand their strength.
 You pass by low slung "condos" for boars designed to keep the big predators out.
Coming here in winter gives you the opportunity to see how the arctic fox blends into the snowscape.
About 2/3 through, there's a place to stop,  get out to stretch legs and visit some wooden buildings for bathrooms, gifts, food and hot cocoa. Friendly deer are in the parking area to get a snack too – those carrots – buy lots.
This is one experience that all Canadian families should take advantage of. It's not only educational and fun, but will bring lasting memories for the whole family.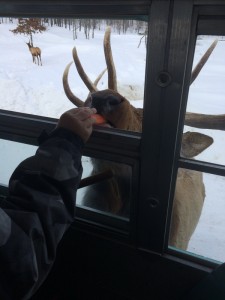 Location: Parc Omega is a safari park in Notre-Dame-de-Bonsecours, Quebec, Canada
Address: 399 Route 323 North, Montebello, QC J0V 1L0 Click for map 
Phone: (819) 423-5487
www.parcomega.ca