December 21st, 2021
Help is at hand. Don't panic. JRC Toys are now open every day,  Monday – Wednesday 10-8, Thursday Christmas eve til ??pm.
The holidays are the moment for us finally to forget the pandemic and add family joy to our lives.  Though the parties will be different, the gifts might be more meaningful this year. Make sure your kids have fun, so pile on the gifts.
The JRC Toys mega toy warehouse sale has been going on for two months already. Get some incredible savings – up to 70% off-  on some of the biggest brand names toys including: Paw Patrol, Phidal, Vtech, Cat, Melissa & Doug, Star Wars, Disney, Mega Bloks, My Little Pony, Nerf, New Bright, Slime, Disney Frozen, Play Doh, Orb, Crayola, Hasbro, baby alive, playmobil, Spinmaster.
This Toy Holiday Sale goes on right until Christmas eve. They accept debit, Visa, Mastercard, but no cheques. There will be no exchanges or refunds, as all sales are final.
Head here for the best prices on the most recognizable brand name toys.
Location: 5589 Royalmount
corner: Chemin Devonshire
Metro: Station de la Savanne
Tel: 514-342-6979
Times: Mon – Wed 10-8, Thurs 10-5
jrctoys.com
email: info@jrctoys.com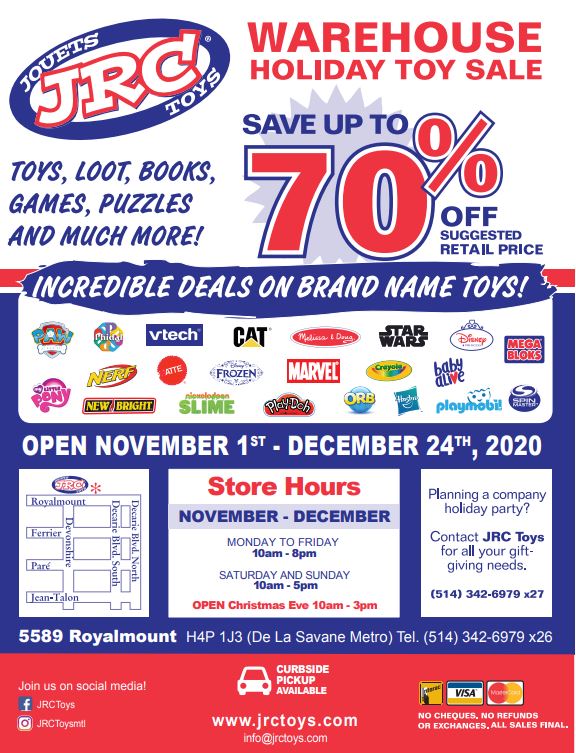 Paw Patrol, Phidal, Vtech, Cat, Melissa & Doug, Star Wars, Disney, Mega Bloks, My Little Pony, Nerf, New Bright, Slime, Disney Frozen, Play Doh, Orb, Crayola, Hasbro, baby alive, playmobil, Spinmaster