Friday, October 6th, 2017
Montrealers have hockey in their DNA, so it is easy to suggest that you head to the Centaur Theatre to see "Playing with Fire", a must-see play about hockey – it's even performed on a hockey rink!  Okay, it's a synthetic one, but the star of this one-man show, Shaun Smyth, skates and acts the entire show in full hockey gear as NHL'er Theo Fleury. Now that's something Habs fans can enjoy – even though he played for the Calgary Flames when they beat us for the Stanley cup in 1989.
Smyth (through the storytelling gift of author and playwright Kirstie McClellan Day) grips you from the last bars of "O, Canada" and takes you through every sweaty moment of his roller coaster life. She glides you in to the sad family life of a diminutive kid from Russell, Manitoba who, after skating, "took his time getting dressed cause I didn't want to go home"-  to one of only 90 NHL players who have scored 50 goals in a season and then went on to win a Stanley cup and even a gold medal in the Olympics. For Fleury,  "sports was his salvation and his escape".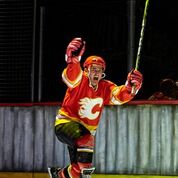 The story is based on the autobiography of Theo Fleury, a book which spent a year on the Canadian bestseller list. His tortured past included the awfulness of a a coach (Graham James) sexually abusing him as a young teen. This led him to years of self-destruction, blowing 50 million dollars on addictions to booze, drugs, strippers and gambling.


To be fully prepared for this part, Shaun Smyth hired a hockey coach to make him a good enough player to meet the expectations of the NHLers he knew would come to see the show. He spent two years practicing, renting ice time and playing pick-up games. If that wasn't hard enough, imagine skating and acting in a one-man show at the same time (and memorizing 7 different versions of it). He, like Fleury, was fearless playing both jobs.
Director Ron Jenkins, along with set and lighting designer  David Fraser, impossibly make the hockey rink slide into everything from an ambulance/hospital room to a hockey sweater cupboard or a firy inferno. The projections and videos by Corwin Ferguson really illustrate the narrative, whether showing hockey cards of players Fleury is referencing or news stories, prairie scenes or even Calgary "flames".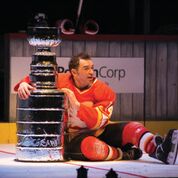 A hometown sidebar is the "So You Think You Can Sing O, Canada" contest which was held before the play opened. Contestants submitted a demo, and each night of the show, "O, Canada" starts the performance, sung by a different Montrealer. Come and watch your neighbours trill.
Meeting Theo Fleury on opening night was a privilege. He has become an advocate for abuse victims, giving over 50 lectures a year – even in prisons which include child molesters (now that's forgiveness!). Fleury said, "We all get addicted to something. We can get rid of stigma. We can all heal".
Though the play showcased a superstar behaving badly, Theo Fleury the man is a double hero: physically he's a hero, succeeding in the impossibly tough game of NHL hockey, but he's also a mental hero who was courageous and strong enough to beat his demons too.
Location 453 St-Francois-Xavier
corner: Notre-Dame
Tel: 514-288-3161
Dates: til Oct 29
Prices: $38.50 – $51.75 (deals for students and seniors)
www.centaurtheatre.com
Metro: Place d'Armes