There are a few ways to cut costs and take in JFL inexpensively.
Thursday night at 9 pm, Sugar Sammy is doing a Free farewell outdoor concert on Scene Videotron. The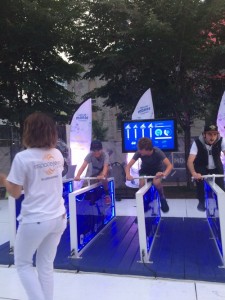 Scène Vidéotron will be presenting various activities at 5pm, 7pm and 9pm.
The Street Arts Festival has acts performing for free in and around Place des Arts. The colorful Place de la famille le lait will offer its load of shows and activities, including biking and spinning for kids and all the family, starting a 1:30 pm each day.  You can sit and watch Ecran des Gags Tim Hortons starting at 3pm.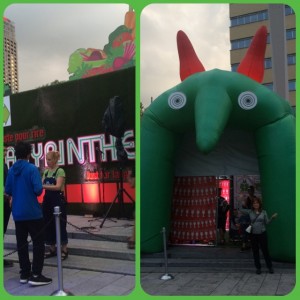 Also for your family entertainment, the V8 Energie Labyrinthe will be open from 6pm from July 26-30 (3pm on weekends).
You can join workshops or watch shows at  Le Petit cabaret de l'Humour at 12:30 pm and 5 pm in Complexe Desjardins from July 21-24 and 28-30.
The NFB #GIFnTAKE  is a new animated experience that puts you front and center of an animated film. You can film by yourself or share the spotlight with a group of friends. The final product will be made into an animated GIF you can share on social media. Find it on the southeast side of Jeanne-Mance and Maisonneuve next to Place-des-Arts Metro station entrance.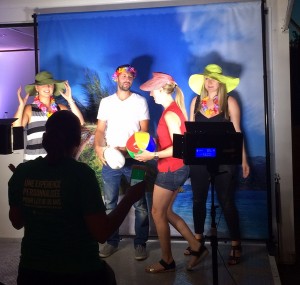 At the Zone Mondial des Jeux Loto-Québec set on Maisonneuve Blvd you can get to play various table games and board games. You are invited to play the new and the classic video games.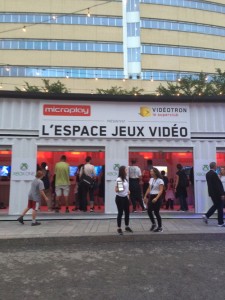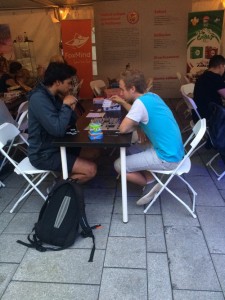 The Scène Loto-Québec will be hosting shows from 4pm-10pm.