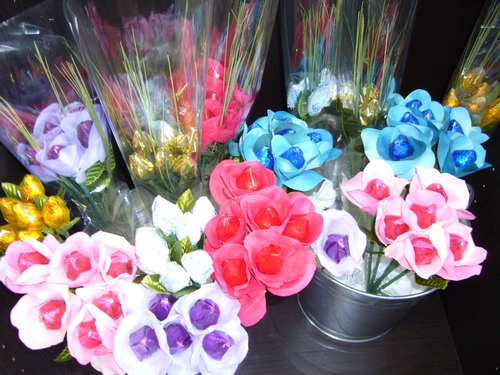 Oui Mon Cheri gifts has shopped the world to bring Montrealers something different – from fashion and home decor to accessories and custom invitations. Here's a peek at some of their wares:
– SkyBelts® are belts which are made with authentic buckles from commercial airplane seatbelts. They come in a variety of colours and patterns.
– CocoRoses are silk roses with two Hershey® Kisses® tucked inside. Think of these for birthdays, for Mother's Day, for a teacher, a prom date or just when you want to tell someone they're special.
– Cushions which you can write on, then erase, and write on again.
– With Lamp In A Box® you choose a lamp and a shade to match your decor and can even have them customized.
– Candy, dip, or nut ceramic dishes shaped into letters and numbers so you can spell out a name or a special birthday year or whatever you can think up.
– Greeting cards which contain wild flower seeds. You just tear off a piece of the card, plant it and voila, they will grow into wild flowers.
– Glassware re-purposed from actual real liquor bottles with the logos still intact.
– Novelty sunglasses with fun designs and or words printed on the lenses, such as bride or groom, or with country flag patterns.
– Customized and personalized packages of tea, coffee, cappuccino, cocktail mixes, lemonade and/or hot chocolate.
– Coffee mugs which look like purses.
– Delicious homemade jams.
– Artistic Candles and Incense from the U. S. Virgin Islands, in seashells or real coconut shells.
– Heart shaped fondue sets.
– Guy Fieri Sauces N' Salsa and Wolfgang Puck Coffee.
– Custom and personalized printing, custom photo gifts – stationery, invitations, iPhone/Samsung cases, journals, retro metal kids lunch boxes, melamine plates, trays and more.
The many promotional products sold here could be personalized for parties or business: mugs, cups, pens, stress relievers, picture frames and hundreds more.
The mix of what fashionistas are looking for (SkyBelts® and PanAm® Bags) to recycled glassware from Bottlehood®, and then to the huge assortment of personalized items, makes this a place you should check out whenever you are shopping for gifts – or for yourself.
Location: 1001 Lenoir (RCA Building), Suite A-206, Montreal QC H4C 2Z6
Corner: St. Antoine
Tel: 514-419-5957
Metro: Station St. Henri
Hours: Mon, Tues, Thurs & Fri 12-6, Wed 1-8 or by Appt.
www.ouimoncheri.com
FB: https://www.facebook.com/OuiMonCheri
www.smartshoppingmontreal.com/store.php?s=319