What can you say about a museum when the 7-year-old you are with stops in her tracks at the entrance because she's in awe of what she sees? Imagine you are walking thru a video screen of Canadian nature: the aurora borealis, crystals, wheat fields or fire. The museum has been completely re-done, with only two of the all-time favorite exhibits remaining – the crazy kitchen (it's still so fun watching the video monitor of "drunken" people trying to walk through) and those majestic steam locomotives.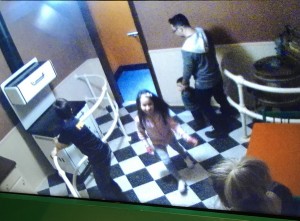 Visiting with a group of kids with an age range of 4-13, all of them were entranced for over 5 hours. Even though it was a busy weekend day, it rarely felt crowded, since there were so many corners to get lost in. One you may not find was a favorite – go past those hulking locomotives and around a corner to look for the soundproof Sounds of Silence room. Nearby, behind those trains, are movable touchable displays called Sound by Design.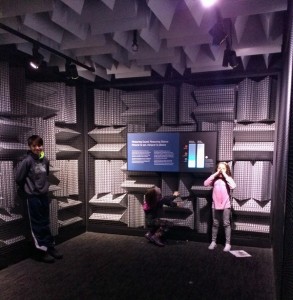 The 13-year old liked the wearable technology and how it made the great outdoors easier to enjoy. He got to test a hockey helmets ( you get to whack one with a hammer) and perused the development of beekeepers' gloves.
At Into the Great Outdoors, I was entranced by the land-water car owned by a family who needed it to drive/float to their chalet on an island.  Though the Zoom room was noted for ages 0-8, all of the kids had fun there – especially on the climbing wall with its secret smells and in the wind tunnel. The 4 year-old was in there for hours. We even saw couples on dates walking around in there with silly grins on.
Medical sensations was scary to one of the young girls, but they enjoyed manipulating facial features and guessing what the colorful patterns were which were captured by microscopes and telescopes.
The Exploratek room is near the cafe. Here the kids can gets creative and build buildings, create tube tracks or work with a robot.  The museum helps you keep costs down by making sure there are tables and cozy couches if you want to bring your own lunch, We'd suggest you do this, sinces the line for hot food in the cafe  moved slowly. There was a good selection of healthy foods.
A few times a day there are live demonstrations – we got lucky and saw one on pyrotechnics, including a rocket firing. Three-Two-One blast-off to this interactive fun learning museum.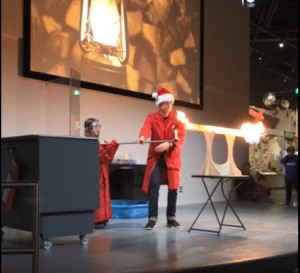 Location: Canada Science and Technology Museum, 1867 St Laurent Blvd, Ottawa, ON K1G 5A3
Telephone: 613-991-3044 or toll-free: 1-866-442-4416
Hours: May 1 to September 1: Open daily; September 2 to April 30: Closed Mondays
https://ingeniumcanada.org