JRC Toys mega toy warehouse sale has always been there for us and it is no different this year. You can always score incredible deals on name brand toys at fabulous prices.
The holidays will come this year, and no bug is going to stop us from celebrating. Though the parties will be different, we will still want to light up our kids' lives with fun and educational gifts.
JRC Toys has amazing deals on the hottest toys at discounts of up to 70% off. You can get a head start on your holiday toy list starting today . This is the kind of place where it is important to shop often as new items appear every week.
The biggest brand names in toys are always here, including: Paw Patrol, Phidal, Vtech, Cat, Melissa & Doug, Star Wars, Disney, Mega Bloks, My Little Pony, Nerf, New Bright, Slime, Disney Frozen, Play Doh, Orb, Crayola, Hasbro, baby alive, playmobil, Spinmaster
They are now open every day, Monday – Friday till 8pm and weekends 10-5. They accept debit, Visa Mastercard, but no cheques. There will be no exchanges or refunds, as all sales are final.
Head here for the best prices on the most recognizable brand name toys.
Location: 5589 Royalmount
corner: Chemin Devonshire
Metro: Station de la Savanne
Tel: 514-342-6979
Times: Mon – Fri 10-8, Sat & Sun 10-5
jrctoys.com
email: info@jrctoys.com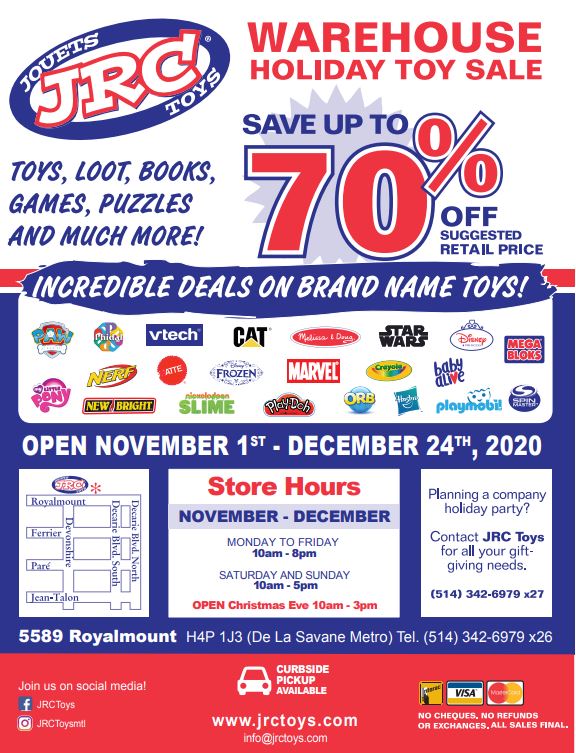 JRC Toys, mega, toy, warehouse, sale, name, brand, price, holiday, year, bug, celebrating, parties, kids, lives, fun, educational, gifts,amazing, deal, hot, discount, head, start, shop, new, week,