Two-time Governor General's Award-winning playwright Morris Panych takes simple ideas for plays, he says, "you take small events and spin them into larger issues".  I see this play, The Shoplifters in that light, a bit like the TV series Seinfeld – they start out as Nothings – or the mundane aspects of life;  Panych takes something about nothing and makes it into something. This humorous yet poignant play as he notes, is about a "little grocery store episode".
Along with Alma and Phyllis, we are thrown into the (fabulously imagined) back storage room of a grocery store as they are being questioned about a couple of steaks.  Though this seems a simple story about a woman and her preponderance for "five finger discounts",  she sees it  more as her giving the "middle finger" discount –  taking from corporate profit and dispersing it in her neighborhood to those in need.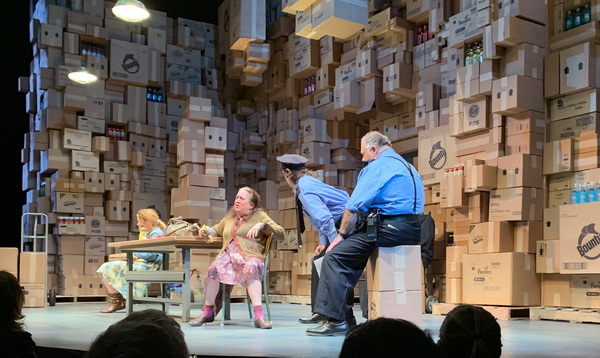 The Shoplifters was shoplifted from Morris Panych's background; The two steaks go back to his Calgary boyhood. Panych admits that as a teenager "I also stole steaks. Lots of them. For fondues." He also said, "If we wanted any joy in life, we had to steal it."  Adding, "we were taking from The Man." Aha, the theme of the play.
Another theme (and perhaps inspiration for Alma) came from a story he heard about a "an old woman in Florida who was arrested for shoplifting and didn't want 'rehabilitation' because she actually enjoyed stealing".
As usual Ellen David who, as Alma, lights up the stage with her spot on wise-cracking performance and subtle acting. She thrashes out to rookie security agent Dom in his ill-fitting new cop suit, "so those are training pants". It's not all laughs though as she bemoans to the guards, "We play the bad guys and you play the good guys".
A wonderful pied-a-deux battle of wits with Alma is man-handled by Michel Perron as Otto, the world weary, seen-it-all, being-pushed-out-of his job, older security guard. Otto is aware of Alma's sticky fingers and is fascinated by her "breezy confidence, daring-me-to-catch you" ways.
Alma is mentoring Phyllis, (played by Marie-Eve Perron) her twitchy nervous young accomplice, in the fine art of shoplifting, Phyllis unfortunately dropped a steak from under her skirt. Frustrated Phyllis, yells, "That's what the double-sided tape is for!"  She's caught by the brand-new (too) high strung security hire Dom (played by Laurent Pitre) and his crime fighting evangelist ways. He's the black and white agent to Otto's more learned greys.
The set developed by Ken MacDonald is brilliant. The Centaur stage became a giant Lego construction of perhaps 2000 supermarket boxes piled floor to ceiling.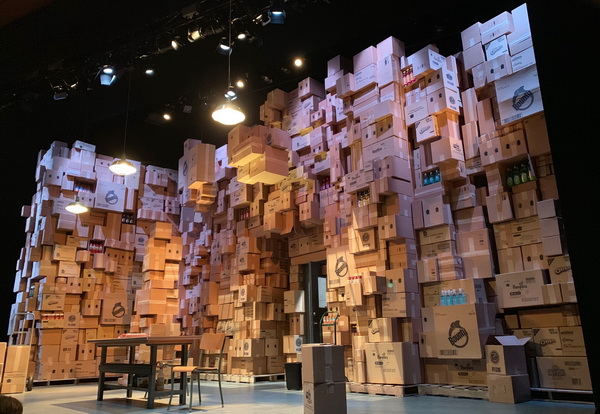 Lucky for us, the playwright changed the play to make it sound like it's actually happening in Montreal by hiring two francophone actors and sprinkling French throughout.
Panych wrote this  shout out about capitalist culture and how it affects the haves and the have-nots. He wants us to learn about ,  "people and how they rise or fall to the challenge of just living."  But then adds, "Sometimes we secretly applaud the evening of the score."
Location: Centaur Theatre, 453  St. Francois Xavier
Phone: 514-288-3161 or 514-288-3161
Dates: til Apr 7
www.centaurtheatre.com