If this is the moment you are thinking of getting away from the cold, thinking of traveling, or are planning something for later on, there are some interesting items that can make the trip more pleasurable – Jetsetter has all the gadgets you may need and specialty travel clothing.
There are clever things you will not be able to find elsewhere. I just was over there to buy a strap which hooks my carry-on bag to my bigger one, so I only need one hand for the luggage and it allows me one hand free.
You can secure your luggage in your hotel room, on the train, plane terminal or anywhere you need it while you travel with a TSA approved cable lock. There's 48 inches of PVC covered steel cable to keep your gear safe and the combination padlock is easy to reset. The 4mm steel shackle is ideal for locking zippers too.
Below are some of my new finds: dry shaving cream, laundry soap, etc. so you don't have the "liquids" problem in your carry on and they save weight. A waterless disposable razor blade (with shaving gel attached) so you can get that last minute shave anywhere. A solar charger for your phones, etc which happens to be a light, a memory foam neck pillow with air vents to keep cool and throw away toothbrush/toothpicks.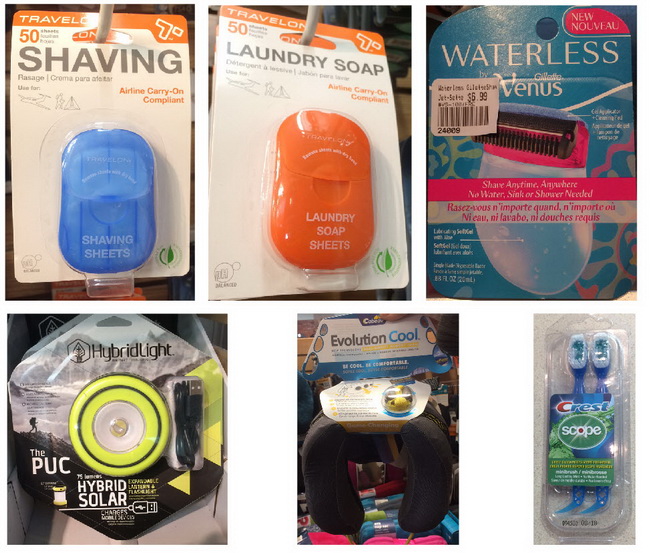 Besides a huge selection of luggage, including rolling backpacks and duffels (Briggs & Riley, Lipault, Eagle Creek), there are various kinds of money stashers, toiletry and packing organizers,  travel pillows and blankets, carry-on liquid sets and individual teeny bottles, compact appliances, electricity converters and mini electronics (mini mice, ear bud splitters).
Location: 66 Laurier ouest
corner: Clark
Tel: 514-271-5058
Hours: Regular plus Sun 12-5
www.jet-setter.ca