It's always so much fun when a theatrical experience, be it a movie or a play, takes place in your own home town. The insider information and jokes make you feel like you are part of a private club. The Centaur Theatre's last play of the season, Triplex Nervosa, is Montreal-Mile-End centric, even including music by Mile-Ender Patrick Watson.
So many of us have nurtured the idea that if we just buy a triplex, it can provide a steady income and eventually even a retirement plan. For artists who have irregular paychecks, this concept is even more inviting.

So the author of this play, Montrealer Marianne Ackerman, herself an artist, took the plunge and gives us a farcical taste of how this good idea could turn into a frustrating experience and possible financial disaster. As they say in the play, "the problem is money and the solution is money."
The audience giggled from start to finish, which is hard to imagine since the neighbours are all going through serious issues of break-ups, divorce and even death. The story captures many mash-ups of sensibilities, be they ethnic ones, gender-assigned roles, immigrant, political right vs. left, or artist vs business person.
Roy Surette, artistic director of the Centaur, directed this play himself with fabulous stage direction incorporating the inventive Lego-like structure of the stage (pop-up bench, coffee shop and car) designed by James Lavoie (who has worked for Cirque du Soleil).  The play takes place not only on both wings of the stage, the aisles and the front of the seating area, but also on a roof accessed by a typical Montreal outdoor spiral staircase, and through three doors representing the 3 floors of the triplex or and its interior rooms.
Seven actors are cast with a few playing double and very different roles. Favorites were the award- winning Cat Lemieux, with her perfect comical timing, including subtle body movements, who portrays a real estate agent and the perfect caricature of a Montreal police officer. Daniel Brochu shows a diverse range of talent, playing both a Westmount matron (never realized it!) and a noodgy Hasidic Jewish man.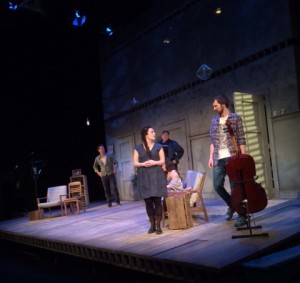 At the end of the night, Ackerman herself said that watching her written play unfold live was like taking a black and white picture and making it full colour. This play is a fun entree into the rainbow of comic, tragic and everyday lives of our own Montrealers.
Location: 453 St-Francois Xavier
corner: Notre-Dame
Tel: 514-288-3161
Dates: til May 17
Prices $27-$49.50
www.centaurtheatre.com
Metro: Place d'Armes