A half century ago, a creative actor/director and immigrant (from South Africa via England), Maurice Podbrey, together with his equal half, Elsa Bolam (and Herb Auerbach and Peter Duffield) managed to knit together a theater company, Centaur, which was and is no easy feat. If that wasn't nerve wracking enough for a person, Bolam then went on to start another successful one, Geordie Productions.
In an unintentional but perfect nod to the past, Eda Holmes, Centaur's new artistic director, brings us Choir Boy set in a boys' prep school while Podbrey's first production, The Prime of Miss Jean Brody, took place in a girl's school. The play is written by Tarell Alvin McCraney, who comes with a pretty flashy CV: he's the Chair of Yale's School of Drama, where he is also the Playwright in Residence at the Repertory Theatre. and he was also Playwright in Residence for Stratford-Upon-Avon's Royal Shakespeare Company – and happens to be a member of the renowned Steppenwolf Theatre Ensemble. And let's just throw in here that he wrote the story of Moonlight which won Oscars for best picture and for the writing.
The story is mostly about Pharus (played by Steven Charles), a gay student making his way through a very traditional private school. Charles commands the stage throughout, and we can't wait to see where his star takes him (to the Broadway production?). His fellow students talk, yell, fight and sing a cappella as they share intimacies and rivalries when the old school values conflict with our modern world in rules, nepotism, faith, sexuality and school board traditions.  Tight direction by Mike Payette keeps you riveted throughout, while Lighting Designer Andrea Lundy's magic creatively moves you around the set (loved the purple).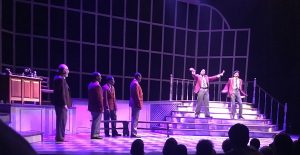 Floydd Ricketts, the musical director and arranger, was the right man in the right place to be able to create new arrangements of spirituals, gospel and jazz songs for a cappella harmonies.  Ricketts notes, "Even though this music comes from pain, there is also joy in it". Dayane Ntibarikure, assistant director and choir movement facilitator, did a brilliant job of  having the actors move "slave slowly" around the scenes, adding foot stomping  to song and subtly evoking a chain gang in the shower scene.
Holmes has tweaked the play runs slightly this year by adding (less expensive) preview shows to get the performance just that more perfect for opening night. You know how much I like a deal, and Centaur offers much for FREE with behind-the-scenes info to enrich your  theater experience: Talk Back after the shows , Sunday Chat Up, Thursday Pre-Show Convo and the Saturday Salon.
How perfect that this golden Centaur season started by lifting our spirits with the power of music blended with this timely story. See Choir Boy in Montreal before you can't get tickets on Broadway (Dec 2018)!

Location 453 St-Francois-Xavier
corner: Notre-Dame
Tel: 514-288-3161
Dates: til Oct 28
www.centaurtheatre.com
Metro: Place d'Armes